Today everybody knows about Youtube. We know what a vast platform this is. Every day a lot of new content creators are starting their journey as Youtuber. But only a few of them are able to establish themselves as successful Youtuber. However, do you know who is the fastest growing army on Youtube now? Today we will talk about the fastest growing army on Youtube. Here we go.
It's Danny Gonzalez, who is known as the fastest growing army on Youtube in 2022. He was also the fastest-growing army on Youtube in 2021 also. He is a former Vine celebrity from the USA who is well known for his reaction and funny videos. Here is his Youtube Channel.
Let's know more about him, who is Danny Gonzalez?
Danny Gonzalez: The Fastest Growing Army On Youtube
Danny Gonzalez is a famous American YouTube and former Vine Application star mostly known for his comedy and reaction youtube videos. Danny Gonzalez first became known on the now-defunct Vine apps, where we know he gained nearly 3 million followers by the time the app shut down.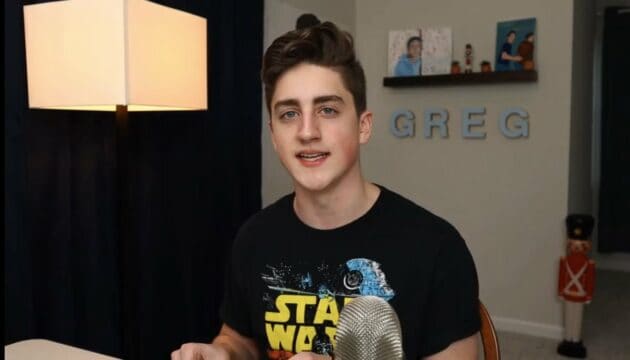 After Vine apps shut down, he shifted to YouTube, where he produced funny video content. Growing up, he would make Youtube videos for fun with his friends. He also started editing videos when he was only thirteen. As a high schooler, Danny Gonzalez would often create funny parodies and skits for his school.
Now we know who is the fastest growing army on Youtube. Let's know some about his personal life.
Danny Gonzalez's Personal Life
He started his school at Wheaton North High School in Wheaton, Illinois where he took part in theater and was on the school's debate team. In 2016, he graduated with a computer science degree from the Georgia Institute of Technology.
He has always been very quiet about his family, but he has shared a few pieces of information. We found credits mentioning in one of his old music videos that his parents' names are Judi and Dave Gonzalez.
In July 2017, He married Laura Fuechsl. They started dating in his high school when he was sixteen and she was seventeen. Laura is very supportive of his's career and also appears in some of his videos. Currently, the couple lives together with their dog, Sundae in Illinois.
Read More: Who Is Lizzy From Winder Towing?
How and Why He Become The Fastest Growing Army On Youtube
With almost 5.35 million subscribers (since May 2022), Danny Gonzalez has established himself as the fastest-growing army on Youtube. According to prophecy, there has been a prediction that Danny Gonzalez's army ( Who are called Greg) would grow at such a staggering level that it would make a completely new number.
However, we don't think there is any truth about it – the way Danny Gonzalez's army has grown on YouTube is impressive. In his early days on Youtube, he rose to fame with the Vine application. He grew from zero to over 3 million followers. But unfortunately, the Vine application platform was shut down, and he had no other choice at that time which make him to move on YouTube.
And that is where things got spicy for Danny Gonzalez. As a result of his Troom Troom reaction videos, we saw him attracting hundreds of millions of people. Besides, he made a brand for himself in the industry of music with his amusing and parody songs.
This way his army has been named one of the fastest-growing ones on YouTube. And this record is still maintained to date in 2022. It is so popular that you do not need to look it up. If you want to know why he refers to his fanbase as Greg, then we will give you a clear-cut answer – he just liked to make fun of the video song"The Jake Paulers Song" by Jake Paul.
Milestones As An Youtuber
Subscriber Milestones
1 million subscribers: August 16, 2018
2 million subscribers: January 25, 2019
3 million subscribers: October 22, 2019
4 million subscribers: August 29, 2020
5 million subscribers: November 20, 2021
Video view milestones
100 million views: November 11, 2018
200 million views: April 5, 2019
300 million views: August 22, 2019
400 million views: January 17, 2020
500 million views: May 3, 2020
600 million views: August 14, 2020
700 million views: January 4, 2021
800 million views: May 10, 2021
900 million views: October 2, 2021
1 billion views: February 13, 2022
Frequently Asked Questions
Is Greg the fastest-growing channel?
Yes, Greg is the fastest-growing army on Youtube. Everybody knows about them.
How old is Danny Gonzalez?
As Danny Gonzalez was born on June 12, 1994, he is now 27 years 11 months 15 days, or 335 months 15 days, or 1458 weeks 5 days.
What did Danny Gonzalez major in?
As he completed his graduation in Computer Science, so he is a scholar in it.